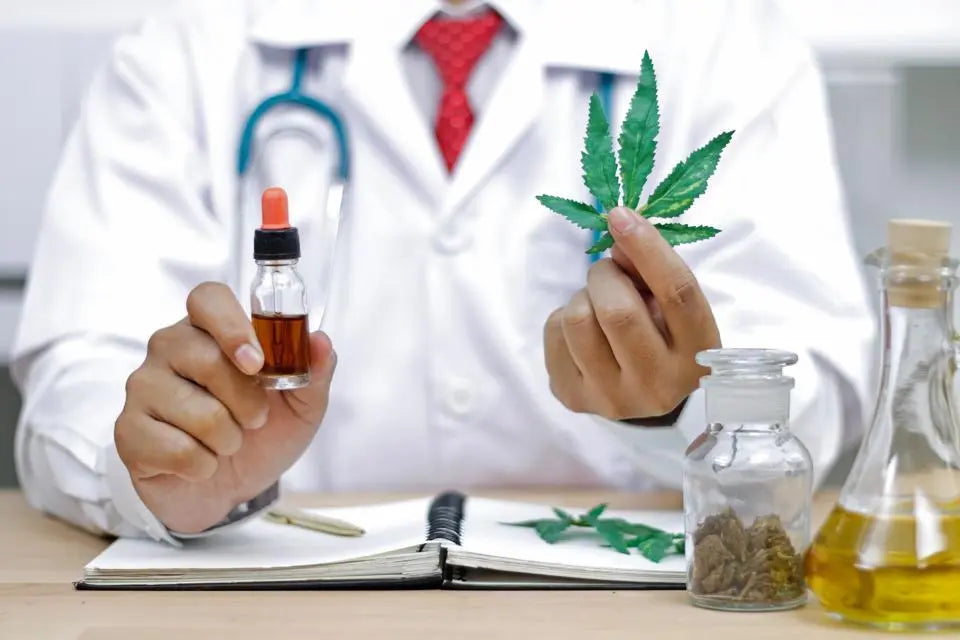 CBD For Coronavirus? New Study Adds Evidence As Covid-19 Treatment
Clipped from: https://www.forbes.com/sites/emilyearlenbaugh/2020/07/15/cbd-for-coronavirus-new-study-adds-evidence-for-cannabis-as-covid-19-treatment/#634346c5382d
CBD from cannabis could become the next COVID-19 treatment - according to new study.
As we continue to see outbreaks of the novel coronavirus surging, many are waiting and hoping for treatments to be developed that might treat, cure or prevent the potentially deadly disease. In a surprising turn of events, cannabis is on the list of potential treatments. 
While researchers are exploring many different possibilities in combating COVID-19, some researchers are looking into whether cannabis or cannabis derived CBD might offer benefits for those suffering from severe forms of this infection. Interestingly, there have been several different ways researchers have suggested CBD might help, including its ability to reduce ACE2 expression and pro-inflammatory cytokine production to fight lung inflammation, and it's potential as an antiviral. But few studies have tested these theories with actual experimentation.  
Now new evidence is adding support to the theory that cannabis derived CBD may help those suffering from the severe lung inflammation that occurs in more serious cases of COVID-19. The study from researchers at Augusta University in Georgia suggests  that CBD may positively impact ARDS or acute respiratory distress syndrome - a dangerous symptom in COVID-19 caused by an overactive inflammatory response. This is sometimes referred to as a 'cytokine storm'. The authors of the study explain that "currently, other than supportive measures, there is no definitive cure for ARDS, illustrating the urgent need for creative and effective therapeutic modalities to treat this complex condition."
But CBD may be able to help treat this dangerous symptom of COVID-19. The researchers suggest CBD may be able to help by reducing pro-inflammatory cytokine production, fighting off the storm. By reducing specific cytokines such as interleukin (IL)-6, IL-1b, and IL-17, we may be able to bring down the inflammation and thus end the respiratory distress and damage. And the results of these researchers' experiments supported this theory. 
The research itself was performed on mice, who were first given a treatment called Poly(I:C) to artificially induce ARDS, with symptoms similar to what we see in severe COVID-19 patients. This created a cytokine storm, reduced the blood oxygen saturation by 10%, and even produced structural damages to the lungs in mice subjects. Then after the mice were experiencing the cytokine storm and coinciding respiratory distress, they were given CBD. And the results showed just how powerful CBD can be when treating ARDS. "These symptoms were totally or partially reversed and returned to the level and condition of the normal after treatment with CBD" the authors report. 
Cannabis derived CBD may help fight off severe lung inflammation caused by COVID-19
Getty
In particular, mice treated with CBD saw reduced expression of IL-6, an important marker for cytokine storms, and lowered the levels of other proinflammatory cytokines. While the Poly:(I:C) spiked inflammatory markers, "CBD treatment reversed all these inflammatory indices and partially re-established homeostasis" the authors explain. Mice treated with CBD also had increases in lymphocyte levels in their blood, which are important white blood cells for fighting off infections. 
Researchers on the study say that CBD could play an immunotherapeutic role in treating severe respiratory viral infections like COVID-19, based on the present findings. 
"The current data support the notion that the anti-inflammatory function of CBD may reduce cytokine storm and mitigate the effects of exaggerated inflammation" they explain. They add that "considering all potential regulatory effects of CBD as well as the vast distribution of endocannabinoid system in the body, it is plausible that CBD may be used as a therapeutic candidate in the treatment of various inflammatory conditions including COVID-19 and other virus-induced ARDS."
More research could help us learn how cannabis and CBD can help fight the novel coronavirus
Getty
Of course, this is an early study, and more research needs to be done - particularly more research that tests this theory on actual human subjects with COVID-19 related ARDS. The authors point out that "obviously, more studies are required to expand and validate this therapeutic strategy." 
While we may have to wait for more research before this is being used as an active treatment for COVID-19, this study gives us good reason to hope that CBD might eventually be harnessed to help fight ARDS. It also adds to the chorus of researchers and cannabis advocates suggesting that we look further into cannabis and its potential to fight this deadly disease.